CENTENNIAL OF FINLAND'S INDEPENDENCE – December 5, 2017
It was in the spring of 2017 that the joint concert project between Mother and Leo Vesalainen (baritone) was born. The aim is to prepare a program based on Finnish music and to perform at an exceptional concert on the occasion of the Centenary of Finland's Independence on December 6, 2017.
The concert is scheduled in the superb hall of the Auditorium of the Algerian National Radio.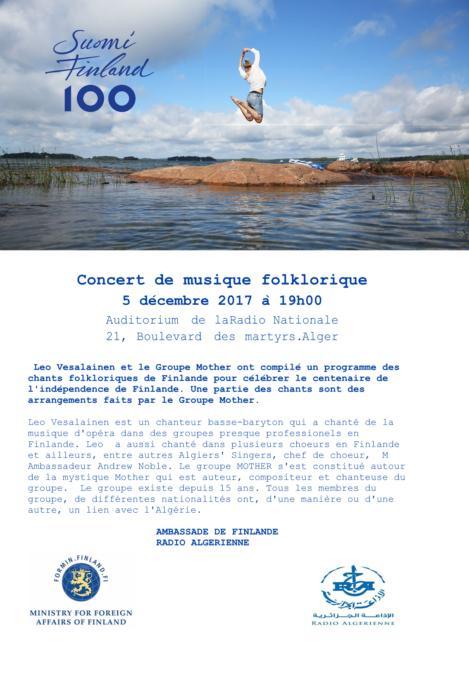 For the concert, Leo found us some traditional Finnish costumes to add a "local" color. He selected 6 songs that he sings himself in Finnish.
For her part, Mother has selected 13 Finnish songs for which she has written new lyrics in different languages: English, German and French. Among these, 5 are interpreted together by Leo and Mother. The original piano accompaniments have been arranged for piano (nadia Mécheri), clarinet & alto saxophone (Yves Grangaud) and guitar (Florent Salel).
Throughout the concert, a slide show scrolls in the background of the stage to complete the evocation of Finland by the so particular beauty and the great purity of its landscapes.
The concert concludes with the song Tuohinen Sormus, which gives rise to a collective improvisation to end on a more festive atmosphere, to the delight of the audience!
The next day, we go to Studio Aminoss to record the 14 songs of Mother. It is from this recording that the album Suomi has been released. The song Can't we which concludes the album was written by Mother especially for the CD, with music by Reino Helismaa. It was not included in the program of the December 5 concert.